EVENTS
This is the EVENTS page. Click HERE for NEWS.
St. Andrews Arts Council 2016 Season
Please check back for our full summer schedule.
In the meantime, please follow us on Facebook for all the latest news.
June 4
Concert
- 7:00pm, Catholic Church of St. Andrew (St. Andrews, NB)
Mozart's Requiem in D minor, K.626
Matthew Leese, Conductor
Featuring Vocal Soloists from Keene State College
NewBEMF Community Chorus
Richard Kidd, Organ
Katherine Moller, Viola
Jonathan Kipping, Timpani
Tickets: $10 at the door
June 23 - Sept 3, 2016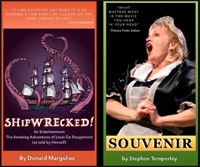 St. Andrews Summer Theatre Presents:
Shipwrecked AND Souvenir

Daily performances at The ACT (Arena Complex Theatre) in St. Andrews!