EVENTS
This is the EVENTS page. Click HERE for NEWS.
St. Andrews Arts Council 2016 Season
Below find our evolving summer schedule.
Be sure to follow us on Facebook for all the latest news.
June 23 - Sept 3, 2016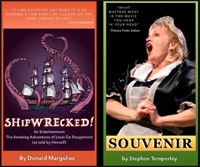 St. Andrews Summer Theatre Presents:
Shipwrecked AND Souvenir

Daily performances at The ACT (Arena Complex Theatre) in St. Andrews!
June 4, 2016, 7pm
Mozart Requiem
Catholic Church of Saint Andrew
$10 at the door
June 26, 2016, 1pm
Wind Masters' Participant Concert
All Saints Parish Hall
by Donation
June 26, 2016, 3 pm
Ventus Machina in Concert
All Saints Catholic Church
$20
July 17, 2016, 6:30pm
Love in the Garden Dinner Theatre
Kingsbrae Garden
$55 + hst
July 24, 2016, 11am
Celebration of Music, with Vocal Techniques students
Wesley United Church
July 26, 2016, 6:30pm
The Flamenco Experience, Jamie Belsito
All Saints Church Parish Hall
$15
July 30-August 11, 2016
Piano Academy & Festival International
Recitals/Concerts/Piano Competition
Various locations TBA
July 31, 2016, 4:30pm
Opera Workshop Benefit Concert
Kingsbrae Garden
$25 - in advance only
Available ONLY at Scotiabank St. Andrews


August 6, 2016, 7:30pm
30th Anniversary Gala Festival Concert
Lewis Dalvit, Conductor
SJDA (Sir James Dunn Academy - high school) auditorium
August 14, 2016, 4pm
Van Horne, Live!
Estate Barn, Ministers Island Community Picnic